SW Energy & Environmental Management Groups:-
Managing Change - unique and internationally popular guide for overcoming management barriers to improved environmental performance
RECENT NEWS
Industrial nations agree to phase out fossil fuels
Climate change is not an environmental issue, but much more to do with security and economics
- Jonathon Porritt
The G7 leading industrial nations (Canada, France, Germany, Italy, Japan, United Kingdom, and the United States) have agreed to cut greenhouse gases by phasing out the use of fossil fuels by the end of the century at their summit in June. Summit host German Chancellor Angela Merkel said they had committed themselves to the need to "decarbonise the global economy in the course of this century". They also agreed on a global target for limiting the rise in average global temperatures to a maximum of 2C compared to pre-industrial levels.
Whilst G7 leaders did not support Angela Merkel's proposal to agree to immediate binding emission targets, they agreed to back the recommendations of the UN Intergovernmental Panel on Climate Change (IPCC), to reduce global greenhouse gas emissions at the upper end of a range of 40% to 70% by 2050, using 2010 as the baseline.
The United Nations Climate Change Conference, COP21, will be held in Paris from 30 November to 11 December 2015. The objective will be to achieve a legally binding and universal agreement on climate, from all the nations of the world. The G7 commitment on phasing out fossil fuels is a hopeful sign that real progress will be made in Paris.
June 2015
UN calls for rethink of global financial system
Did you know that renewables met one fifth of the world's final energy consumption in 2013?
The future is priceless...
Quote from UN Environment Programme
A radical shift in the global financial system is needed according to a new United Nations report, "The coming financial climate - aligning the financial system with sustainable development".
The report considers the need to invest in adaptation to climate change to protect economies from the risks associated with climate change, and is scathing of the market response to date: "In essence, market and policy failures have resulted in the structural mispricing of climate risks, exacerbated by short-termism, misaligned incentives and information asymmetries."
The UN report can be found from this link (opens in new window): UN report: The coming financial climate (pdf on external website).
June 2015
New Energy Bill
The Queen's Speech on 27th May included the announcement of a new Energy Bill which the Government claims will do the following:
Ensure there will be affordable and reliable energy for businesses and families.
Give the Oil and Gas Authority the powers it needs to become a robust, independent and effective regulator, and enable it to maximise the economic recovery of oil and gas from UK waters.
Change the law in line with the manifesto commitment to give local communities the final say on wind farm applications.
Secretary of State for Energy and Climate Change, Amber Rudd, has said that DECC's clear priorities are to keep the lights on and power the economy; keep bills low for families and businesses, and get a climate deal in Paris this year.
May 2015
New Ministerial teams at DECC and Defra
Following the General Election on 7th May, the new ministerial teams at DECC and Defra are:
DECC (Department of Energy and Climate Change)
Amber Rudd MP - Secretary of State for Energy and Climate Change.
Andrea Leadsom, Minister of State for Energy. Her brief at DECC includes energy security; oil and gas policy, including shale gas; carbon capture and storage; nuclear; renewables and international energy.
Lord Bourne of Aberystwyth, Parliamentary Under Secretary of State. As well as his new role at DECC, he will take up the role of Parliamentary Under Secretary of State for the Wales Office. His brief includes heat; smart meters; energy efficiency; climate science and innovation.
Defra (Department for Environment, Food & Rural Affairs)
Elizabeth Truss is re-appointed as Secretary of State for Environment, Food and Rural Affairs.
George Eustice, Minister of State.
Rory Stewart, Parliamentary Under Secretary of State.
Lord de Mauley TD, Parliamentary Under Secretary of State for natural environment and science.
Responsibilities of Defra Ministers yet to be confirmed (as at 15th and 28th May).
May 2015
Managing Change guide has over 300K readers!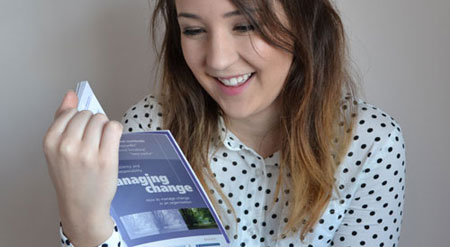 Over 300,000 copies of the highly regarded guide "Resource Efficiency and Corporate Responsibility - Managing Change" have been issued since its original launch in 2004. Used by business schools worldwide and with endorsements from the UK Environment Agency, the US Environmental Protection Agency, training consultants and managers from large companies, this guide remains as popular as ever.
Recognised for its original and effective approach to the whole subject of change management in the context of improving resource efficiency and environmental performance, it is useful for assisting just about any change management process. It shows how senior management can carry staff with them and, conversely, how middle and junior managers can influence senior managers. If your employer manages change badly this could be just the guide to show the Directors how things could be so much better.
The managing change guide can be downloaded for free (and without the need to register) from this website: Managing Change Guide >>.
February 2015
New Global Calculator aims to shows world we can cut carbon emissions and live well too
A new interactive online tool shows that cutting carbon emissions to limit global temperatures to a 2°C rise can be achieved while improving living standards. The Global Calculator, led by DECC and co-funded by Climate-KIC (the EU's main climate innovation initiative), was built in collaboration with ten leading international organisations from the US, China, India and Europe to model the world's energy, land, food and climate systems to 2050.
The interactive tool is aimed at businesses, NGOs and governments to consider the options for cutting carbon emissions and the trade-offs for energy and land use.
The Global Calculator tool is at: http://tool.globalcalculator.org/globcalc.html; a promotional video about this initiative can be found on YouTube from this link: Global Calculator video.
February 2015
Other relevant news websites
GOV.UK - news announcements from all Government Departments