SW Energy & Environmental Management Groups:-
Managing Change - unique and internationally popular guide for overcoming management barriers to improved environmental performance
RECENT NEWS
Managing Change guide has over 300K readers!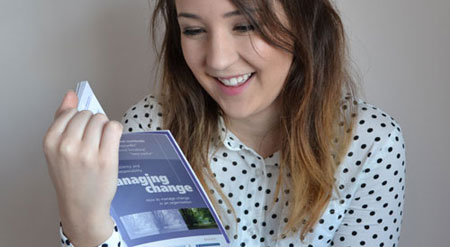 Over 300,000 copies of the highly regarded guide "Resource Efficiency and Corporate Responsibility - Managing Change" have been issued since its original launch in 2004. Used by business schools worldwide and with endorsements from the UK Environment Agency, the US Environmental Protection Agency, training consultants and managers from large companies, this guide remains as popular as ever.
Recognised for its original and effective approach to the whole subject of change management in the context of improving resource efficiency and environmental performance, it is useful for assisting just about any change management process. It shows how senior management can carry staff with them and, conversely, how middle and junior managers can influence senior managers. If your employer manages change badly this could be just the guide to show the Directors how things could be so much better.
The managing change guide can be downloaded for free (and without the need to register) from this website: Managing Change Guide >>.
February 2015
New Global Calculator aims to shows world we can cut carbon emissions and live well too
A new interactive online tool shows that cutting carbon emissions to limit global temperatures to a 2°C rise can be achieved while improving living standards. The Global Calculator, led by DECC and co-funded by Climate-KIC (the EU's main climate innovation initiative), was built in collaboration with ten leading international organisations from the US, China, India and Europe to model the world's energy, land, food and climate systems to 2050.
The interactive tool is aimed at businesses, NGOs and governments to consider the options for cutting carbon emissions and the trade-offs for energy and land use.
The Global Calculator tool is at: http://tool.globalcalculator.org/globcalc.html; a promotional video about this initiative can be found on YouTube from this link: Global Calculator video.
February 2015
Election 2015: Greener Britain
With campaigning for the 2015 General Election on 7th May underway questions we can pose to those who seek to govern us relate to how green, and therefore safe, Britain's future will be under their party's leadership. As a country, Britain has made significant gains in some important environmental areas, most notably in its carbon emissions reduction commitments; but a prolonged recession and narrowly focused national debate have slowed progress.
In their report Greener Britain - Practical proposals for party manifestos from the environment and conservation sector, the Green Alliance and nine other leading environment organisations have set out seven goals for the 2015-2020 Parliament for a better environment and the way we live in Britain. The proposals include making an ambitious 2015 global climate change deal a key foreign policy priority; new policies to protect our oceans; more powers to allow communities to shape their local environment; better support for home energy efficiency; and improvements to resource management for a more resilient economy. The report states "To us, the biggest current challenge to achieving a greener Britain is the hesitant approach of political leaders" and that a Greener Britain would:
be more influential internationally,
support our natural world to recover,
have stronger communities, and
have a more resilient economy.
The report's authors are the Campaign for Better Transport, Friends of the Earth, Greenpeace, Green Alliance, RSPB, The Wildlife Trusts, and WWF.
You can download the report from this link: http://www.greenalliance.org.uk/greenerbritain2014.php.
January 2015
Countdown to COP21 Paris climate change summit
From 30 November to 11 December 2015 COP21, the 21st Conference of Parties to the UNFCCC (United Nations Framework Convention on Climate Change), will be taking place in Paris to produce a global agreement to cut greenhouse gas emissions.
If you want to see what the UK Government is doing towards making progress on the UK target of reducing our greenhouse gas emissions by 80% (from the 1990 baseline) by 2050, the gov.uk website has a page detailing the actions and legislation (2008 Climate Change Act) and this can be found from this link: www.gov.uk/government/policies/reducing-the-uk-s-greenhouse-gas-emissions-by-80-by-2050.
The UN website for climate summits including COP21 is at: www.un.org/climatechange/summit/.
December 2014
Other relevant news websites
GOV.UK - news announcements from all Government Departments