SW Energy & Environmental Management Groups:-
Managing Change - unique and internationally popular guide for overcoming management barriers to improved environmental performance
RECENT NEWS
New Ministerial teams at DECC and Defra
Following the General Election on 7th May, the new ministerial teams at DECC and Defra are:
DECC (Department of Energy and Climate Change)
Amber Rudd MP - Secretary of State for Energy and Climate Change.
Andrea Leadsom, Minister of State for Energy. Her brief at DECC includes energy security; oil and gas policy, including shale gas; carbon capture and storage; nuclear; renewables and international energy.
Lord Bourne of Aberystwyth, Parliamentary Under Secretary of State. As well as his new role at DECC, he will take up the role of Parliamentary Under Secretary of State for the Wales Office. His brief includes heat; smart meters; energy efficiency; climate science and innovation.
Defra (Department for Environment, Food & Rural Affairs)
Elizabeth Truss is re-appointed as Secretary of State for Environment, Food and Rural Affairs.
George Eustice, Minister of State.
Rory Stewart, Parliamentary Under Secretary of State.
Lord de Mauley TD, Parliamentary Under Secretary of State for natural environment and science.
Responsibilities of Defra Ministers yet to be confirmed (as at 15th May).
May 2015
Managing Change guide has over 300K readers!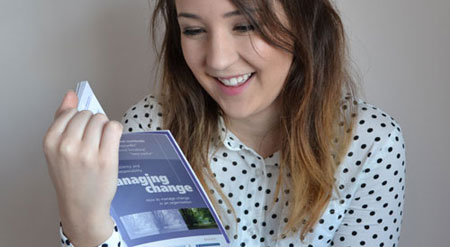 Over 300,000 copies of the highly regarded guide "Resource Efficiency and Corporate Responsibility - Managing Change" have been issued since its original launch in 2004. Used by business schools worldwide and with endorsements from the UK Environment Agency, the US Environmental Protection Agency, training consultants and managers from large companies, this guide remains as popular as ever.
Recognised for its original and effective approach to the whole subject of change management in the context of improving resource efficiency and environmental performance, it is useful for assisting just about any change management process. It shows how senior management can carry staff with them and, conversely, how middle and junior managers can influence senior managers. If your employer manages change badly this could be just the guide to show the Directors how things could be so much better.
The managing change guide can be downloaded for free (and without the need to register) from this website: Managing Change Guide >>.
February 2015
New Global Calculator aims to shows world we can cut carbon emissions and live well too
A new interactive online tool shows that cutting carbon emissions to limit global temperatures to a 2°C rise can be achieved while improving living standards. The Global Calculator, led by DECC and co-funded by Climate-KIC (the EU's main climate innovation initiative), was built in collaboration with ten leading international organisations from the US, China, India and Europe to model the world's energy, land, food and climate systems to 2050.
The interactive tool is aimed at businesses, NGOs and governments to consider the options for cutting carbon emissions and the trade-offs for energy and land use.
The Global Calculator tool is at: http://tool.globalcalculator.org/globcalc.html; a promotional video about this initiative can be found on YouTube from this link: Global Calculator video.
February 2015
Other relevant news websites
GOV.UK - news announcements from all Government Departments